Operation: Peace of Mind
It's a dramatic home organization makeover. (Paparazzi not included.)
Ever dream of being on one of those TV makeover shows, where a team of experts descends into your world for a few hours of intense transformation — leaving you more beautiful, confident + dazzling than ever?
With OPERATION: PEACE OF MIND, you can bring that experience into your home — without the camera crew!
Here's how it works:
We begin with a walk-through consultation at your home, workspace, storage unit, or wherever you'd like the OPERATION: PEACE OF MIND makeover team to descend.
We'll walk through your space together, and I'll pop a few questions to get a sense of your organization goals and priorities. There's no judgment, and no shame. Just kindness, communication — and a few laughs.
From there, I'll prepare an all-inclusive quote for your organization makeover session — it can range from $700 (for a short session with a small team) to $3500 (for a full day with a large team), depending on the state of your space and the level of order you want to create. Some projects require multiple sessions.
And then, the real fun begins! We'll choose a date and time for me and my team to arrive. You'll have me, plus up to five other professional organizers striding into your space, brandishing bins, donation bags and label makers.
We don't wear superhero capes — but we do perform heroic acts of organization.
"I wasn't sure the benefit would outweigh the cost, but it was absolutely worth it. The Operation: Peace of Mind experience was quick and painless and accomplished exactly what we wanted!!"
—Katie Barton, Kirkwood, Missouri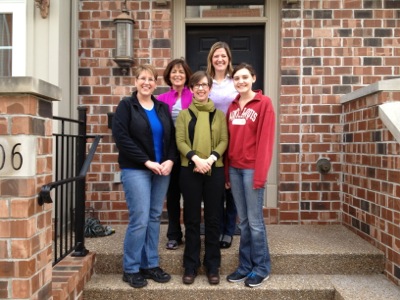 An Operation: Peace of Mind team ready for action!
Here's what to expect:
A walk-through consultation with me (and sometimes an assistant) — it takes about an hour (sometimes more, sometimes less), priced at $150.
4+ hours of intensive de-cluttering + organization from me and a team of skilled experts. (We tote everything away when we're done — no schlepping stuff to the local donation center for you!)
Gentle guidance to help you choose what to keep, what to toss, what to donate, and what to re-purpose.
A done-for-you, don't-lift-a-finger experience, from beginning to end. (We'll need you to make decisions, of course, but we'll do all the sorting, organizing, labeling and heavy-lifting.)
Fresh ideas to help you maintain your newly organized space, for the long haul.
An overwhelming sense of relief, ease and freedom. Instead of an overwhelming sense of … overwhelm.
"We had talked about taking a week of vacation and organizing the basement and the office, but we agreed last night that the team accomplished more on Saturday than we would have in a whole week. You're amazing at what you do and so hard working. On top of all that, you're just a really pleasant group of people to spend the day with."
—Amy Trueblood, Cape Girardeau, Missouri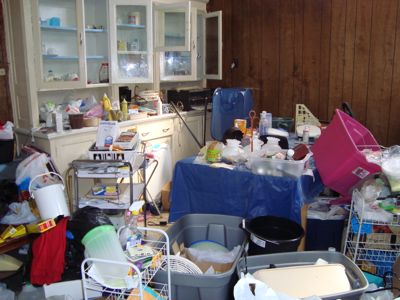 A cluttered kitchen before a team arrived to help.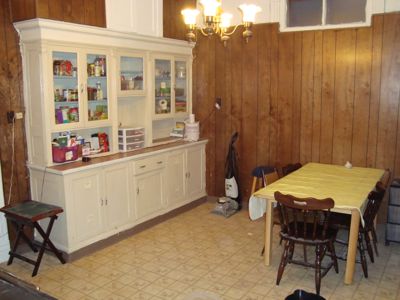 Two organizers created this transformation as part of a team project.
Here's what we can do in a single day (or less):
Clear out space in your cluttered garage (so you can actually park your car, inside!)
Transform your junk-filled guest room into a space that people actually want to sleep in.
Turn your impossibly-stuffed basement into a functional space, with real possibility.
Revolutionize your craft room, to inspire a whirlwind of new projects and passions.
Reveal beautiful, long-forgotten wonders, like the hardwood floors in your bedroom!
"We needed some serious man (woman) power to get our basement back under control. You guys were great! Thank you so much for helping us get so much accomplished in such a short period of time. Your team was so friendly and we loved how everyone stayed on task. It was a big project, and the great people on the team made it fun!"
—Crystal Garrett, Ballwin, Missouri
Here's how to book it:
Email me at janine@peaceofmindorganizing.com to book your walk-through consultation — the very first step to

OPERATION

:

PEACE

OF

MIND

.
From there, we'll discuss a plan, a price, and a date for your makeover experience.
Prepare for feats of astounding organizational prowess!
"I'm just amazed by how it all came together. Truly remarkable. You and your team are so talented, efficient and FUN to work with!  I only wish I had done all this a long time ago. It's the best money I've spent in years!"
—Kate McCurdy, St. Louis, Missouri
"You and your team were not just professional, but so much fun and really smart. I was even more excited when I saw my garage again this morning!"
—Karry Gladden, New Baden, Illinois
"I want to thank you so much for everything. The basement looks awesome and everyone was so wonderful and understanding. It was such a great experience and achievement. It's the best feeling in the world and is certainly worth every cent. You are the best ever."
—Karen Whitney, Hazelwood, Missouri
"I had such a wonderful experience with you! Thank you and your team for the services you provided that gave me a great stride forward and the means and confidence to move forward toward my goal. I feel so much lighter and motivated to take on the world!"
—Kiki Lee, St. Louis, Missouri
"When Janine came out, she was very respectful and encouraging of our motivation to take control of our messy garage.  When she said she could do it in a day, I was beside myself.  I was thrilled with the idea of being able to use the garage again….Not only did Janine and her team help us clean out our garage and implement a system, but she's motivated us to keep going!"
—Billy Fauller, Barnhart, Missouri
"Peace of Mind Organizing does just that—they ease your mind about your organization choices and assist you in making the best choices for your lifestyle. They are very patient, professional and prompt. I would recommend that anyone like me that has a big mess give them a call. Janine, I want to thank you, Sheila, Terry and Kim. I feel like we are friends now."
—Rikki Henry, Shiloh, Illinois
"My husband and I hired an Operation: Peace of Mind team to help us declutter and organize our basement. I enjoyed working with such a nice, understanding and supportive group of people. While it was an intense experience, I am so glad we spent the time and the money. We're really enjoying our space now!"
—Marta Gray, St Louis, Missouri
"After working with an Operation: Peace of Mind team, I love being able to walk through the main level of my home and feel relief that I have everything sorted out. It's cheaper than therapy — life is too short to live in a messy, unorganized house!"
—Marianne Cherry, Chesterfield, Missouri
"The day I met Janine for the consultation I was nervous. But she came in with such positive energy and great ideas that I decided to give it a shot. The day of the transformation, the team was so amazing! They were genuinely kind, considerate, helpful, motivational, and most importantly they made the process easy and fun. I would do it again in a heartbeat, except I learned so many new and easy ways to do things that I'll never need to do it again!"
—Mary Wheeler, St Louis, Missouri
"It was a pleasure to work with professionals who care about what they are doing and who care so much for their clients. I feel so good now that my basement is organized and clutter-free. I was able to become decluttered in one day!"
—Michael Eastman, St Louis, Missouri
"The team approach was incredible—it was like magic and was painless. When the day was over I actually had an organized space, and two months later I've kept it that way. I was stressed about opening my home and my belongings to strangers and I really considered canceling my appointment but I knew the clutter and disorganization were affecting me emotionally so I went through with it. I was surprised that it was so easy! The team was reassuring and positive the entire time and made me feel comfortable about the process. It's incredible what you can accomplish with a group of people in a day!"
—Laura Davidson, St. Louis, Missouri
"My home was so cluttered that I couldn't easily navigate through it. Though I felt some shame in exposing my mess to others, the clutter crew was non-judgmental and the shame quickly went away. I felt so supported throughout the process and I was really happy with the quick progress we made. I want to express my deepest gratitude for the support you gave me and for the push toward returning peace of mind to my life. If I had a friend or family member asking me whether it's worth it to bring in an Operation: Peace of Mind team, I'd say, "Why are you standing there? Call now!"
—Peggy Sharp, Manchester, Missouri
"Having 'new' eyes look at the same spaces that I've been trying to corral on my own brought about amazing results. I loved being part of the process: I didn't want someone to 'do' it for me, I wanted to help and be involved so that the solution was something that would really work for me. I was pleased that the end result was so dramatic!"
—Kristi Hill, St. Louis, Missouri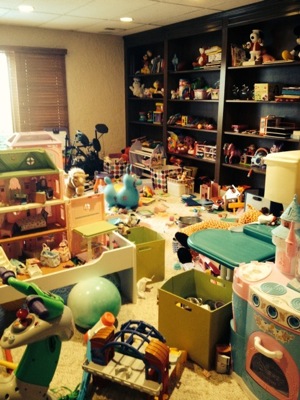 Too many toys in this playroom led to chaos.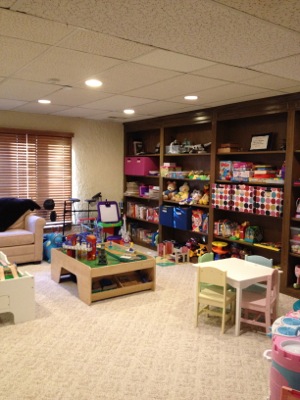 It took two team sessions, but what a transformation!
"When I met with you, I felt we really connected and I didn't feel judged. Before the team arrived, I have to admit I was nervous. But everyone was very professional, and also enthusiastic, focused and fun. You made it easy. Now my house is looking even better than I thought it could."
—Jan Petrick, Kirkwood, Missouri
"I really enjoyed working with you and the team. The end result was so freeing. There was no judgment on the team's part and my initial embarrassment vanished soon after everyone arrived. My place looks great and I actually feel good being there! If one of my neighbors stops by now, I'll be happy to let them in."
—Denise Hesler, Ballwin, Missouri
"I was concerned over the investment required to bring in an Operation: Peace of Mind team, but I really liked the description on the website of how you listen to what the customer wants. I was pleasantly surprised at how good the team members were at what they do and I loved how Janine took a personal interest in my situation. The team was as good as it gets and I'm completely satisfied!"
— Scott Vogelweid, St. Louis, Missouri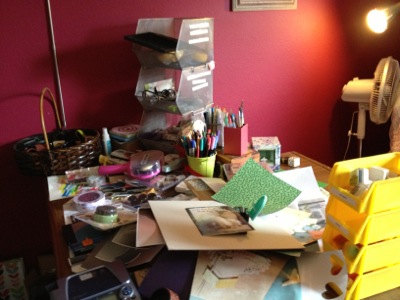 It was hard to get anything done on this messy craft desk.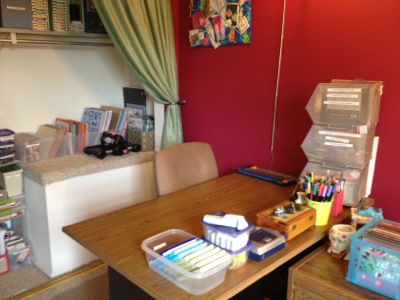 After team organizing, so many things can be created in this craft room!