Getting to Good Enough Podcast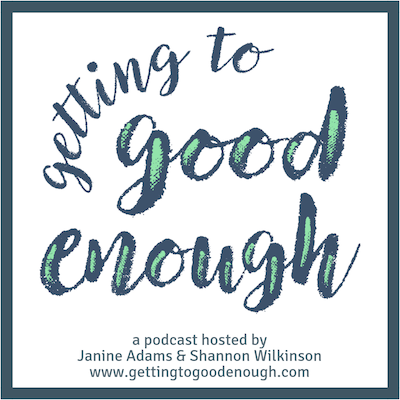 In June 2018, life coach Shannon Wilkinson and I started Getting to Good Enough, a podcast to help you let go of perfectionism so you can do more of what you love.
Shannon and I have been friends since 2001, despite the fact the fact she lives in Portland, Oregon, and I live in St. Louis. Back in 2009, she and I created the teleclass, then e-course, Declutter Happy Hour. (We retired it a few years back.) Shannon's a recovering perfectionist with lots of great insights on the impact of perfectionism. I'm a naturally "good enough" person, but I see the consequences of perfectionism in my clients all the time.
We decided to start the podcast because we thought we could help people get beyond perfectionism if it's getting in their way. And we really just wanted to have fun talking with one another about this stuff every week. The podcast is unscripted and (virtually) unedited and we laugh a whole lot.
We've been delighted with the response we've received, garnering more than 30,000 downloads in the first six months. We have listeners all over the world (though we're still hoping to get a download from Antarctica!).
We publish a new episode every Thursday morning at 9 am central time. You can listen from the show notes page for each episode at Getting To Good Enough.com or you can subscribe to the podcast on iTunes, Google Play, or Stitcher, or through the podcast app on your mobile device.
I hope you'll give us a listen!