Speaking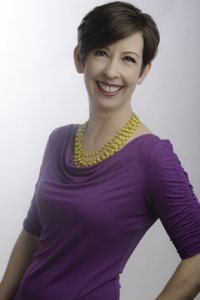 I'm a certified professional organizer with a pretty unusual stance:
The way that you feel about your life and your home is far more important than how your space looks.
If you're looking for a seasoned speaker to talk about ease, freedom, and creating lasting peace of mind — even if (gasp!) you're not perfect, not tidy, and not particularly interested in the pros and cons of various plastic storage bins — I'm your gal.
I've been featured on TV shows like A&E's Hoarders and TLC's Hoarding: Buried Alive, as well as morning talk shows like Great Day St. Louis. I'm comfortable in front of the camera — and in front of a crowd.
I love sharing my ease-­making insights on …
Matching organizational systems to your personality type (hint: it's the secret to enjoying lasting peace of mind.)
Ease and harmony for naturally messy creatives — like me (and many of my clients!)
Overcoming disorganization 'shame' — and moving on with your life, even if your world isn't 'perfect' yet.
Getting past overwhelm and getting started already.
In addition to running my professional organizing business, I'm also an amateur genealogist and ancestry buff, and I love sharing techniques on how to research and organize your family history. I can also address dealing with an inherited trove of family treasures.
Ready to set things in motion? Send an email to janine@peaceofmindorganizing.com or give me a call at 314-707-3022 to chat about bringing me to your event!
RECENT SPEAKING EVENTS
Academic Women's Network, Washington University School of Medicine
The Australasian Association of Professional Organizers (international conference, Brisbane, Australia)
B'nai Amoona Sisterhood
Ford Hotel Supply sales force
The Garden Writers Association (national symposium, Portland, Oregon)
Get Organized St. Louis expo
Kirkwood Public Library
Ladue Chapel Women's Association
Mom's Blast Off! (with Jill Farmer and Allison Collinger)
National Association of Professional Organizers (national conference, Baltimore)
Professional Women in Building Council
St. Louis Public Library
Saint Louis University Women's Commission
St. Louis Volunteer Lawyers and Accountants for the Arts
Thomas Dunn Memorials Adult Education Program
Women President's Organization (St. Louis)
University of Missouri-St. Louis Staff Association
U.S. District Court, Eastern District of Missouri employees
Wellness Education Program, St. Louis University
AUDIENCES ARE SAYING
"Excellent and informative."
"Refreshing, natural, and honest. Much enjoyed."
"Fabulous authenticity. How can you NOT like her?"
"The workshop was very helpful and gave practical ideas that can be used immediately."
"Very real, great information, very relevant, very engaging."
"Thank you for an excellent program. We heard nothing but raves from those who attended. You were most generous with your time and talent."
"Thank you so much for speaking to our group today. I received positive feedback from everyone I spoke to. You were quite impressive! Again, our thanks to you for a provocative presentation."
"We appreciated the way you showed us that decluttering doesn't mean just throwing out physical things, but organizing the way we think as well. I'm sorry the class wasn't longer!"
"Janine Adams has helped master clutterers at Thomas Dunn Memorials believe they can organize their lives. She makes you want to simplify your life – and enrich it in the process!"
"You have made a difference in my life. Your presentation was worth me taking a full eight hours of vacation from my job just to hear you."
"I took your decluttering/downsizing courses at Thomas Dunn. I want you to know it wasn't in vain. I am very sentimental and both my husband and I hang onto everything. My motto is now: 'use it or lose it' – thanks to you! Never thought I'd come to this point, but I have. As the days go by, I realize it's easier and easier to let go. (So far I got rid of 18 32-gallon trashbags at my first garage sale, and then was able to let go of an additional 5-piece bedroom set!) Thank you so much for giving me the courage to let go and live better!"